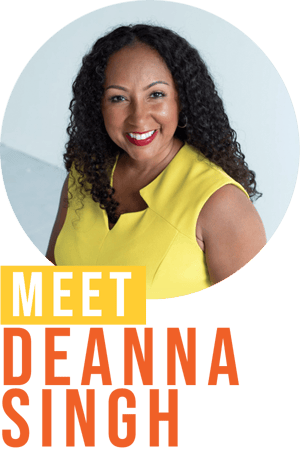 Deanna Singh is a highly respected thought leader who travels the world motivating and educating audiences about living with joy and purpose. A gifted communicator, she is a champion for marginalized communities and an inspiration to all those who want to be agents of change in their work, lives, and society.
Singh earned her Bachelor of Arts in Urban Studies from Fordham University, a Juris Doctorate from Georgetown University, a Master's in Business Administration from the University of Wisconsin, Madison, and certification in Diversity, Equity, and Inclusion from Cornell University. She has impacted the world as a speaker, a teacher, a principal, a leader of large foundations, a social entrepreneur, a businesswoman, an author, a publisher, and a mother.
Because of her creativity, tenacity, and change-provoking honesty, Deanna Singh is in demand as a motivational speaker and educator for teams from a wide variety of organizations. She is regarded as an expert in leadership; entrepreneurship; and diversity, equity & inclusion and speaks frequently to corporate, university, and association groups on all three topics. She also visits schools to share her experiences and her three children's books, I am a Boy of Color, I am a Girl of Color, and Cloth Crown.
Singh has been recognized by the Milwaukee Business Journal as one of the community's most influential 40 under 40 leaders and the 8 Under 40 to Watch for the University of Wisconsin School of Business. She is also the recipient of the United Way's Philanthropic Five Award and the Wisconsin Department of Public Instruction Leadership Development Hero Award. She also sits on the national board of LIFT.
Singh has also spent more than two decades researching, designing, and building asset-based solutions to complex social challenges while raising awareness for underserved populations. She created Flying Elephant, a social venture umbrella organization that consists of three unique enterprises. The first is her children's book imprint Story to Tell Books, which impacts children of all colors. The second is Uplifting Impact, a consulting firm focused on elevating women and people of color who want to be social entrepreneurs. Lastly, there is Birth Coach Milwaukee, an organization that provides doula services to women who otherwise could not afford it.
Deanna Singh's fully customizable, interactive, and authentic sessions have received accolades from clients and participants from all walks of life. Her courage, positivity, and boundless imagination pervades the stories she tells, leaving audiences with an understanding that with the dawn of each new day, they can choose to have a positive impact on the world.